Photos
Gary-Merrillville, IN Corps
2021
The children of Gary, Indiana, participate in "The Feast" on Tuesday nights. Organized and led by Captain Amanda Keene, who provides the children with "holistic teaching to feed the mind, the body, and soul." She offers the children a home-cooked meal, an interactive devotion, and basic education lessons that local schools are not delivering.
The photos show children sharing in an interactive and educational lesson provided by Captain Amanda.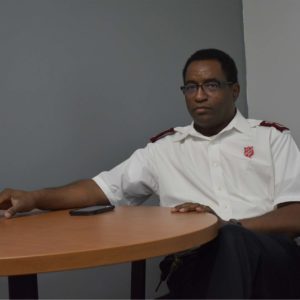 God is Calling You
Major Dale Simmons 
Walking his neighbor to Home League (Women's Ministries) once a week exposed ten-year-old Major Dale Simmons to The Salvation Army. The corps officers' children noticed Dale and invited him to play baseball, to vacation Bible school, and to church. He became a junior soldier at ten years old, along with his sister Bridgette. Eventually, his entire family began attending the Chicago (Temple), IL Corps.
At fifteen, Dale heard God calling him to officership. First, however, he had questions. How would a Black kid from the projects of Chicago fit in an all-white organization? He later faced challenges when his application for the College for Officer Training was deferred several times. Major Stephen Harper recognized the potential in Dale and pushed for a different test. During the 1980s, The Salvation Army did not recognize the implicit racial bias of the testing. Major Dale says, "How are we all the body of Christ from a white Jesus perspective? We need to use the language of love and care."
After serving many cities across the Midwest, creating new programs, addressing social service needs, Major Dale Simmons and his wife, Major Becky Simmons, currently serve at the Michigan City, IN Corps. Together, they work like a well-oiled machine encouraging and serving corps members and the community.
Print, Mountain View
Ernest Watson
The history of the Black church began in the late 18th century when enslaved peoples who worshiped at predominantly white, segregated churches left and launched their own houses of worship. They brought singing, dancing, and passionate praise similar to the spiritual practice of their home countries of Senegal, Angola, and Ghana. Events such as Sunday picnics, Bible study, and praise meetings developed a sense of community and nurtured hope in the face of discrimination and violence. This image reflects the culture of Black churches.
On loan from Major Dale Simmons