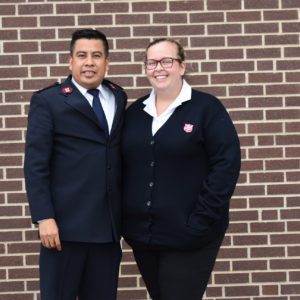 Co-Parenting
Captains Brook Lopez and Cristian Lopez Azompa
Captains Brook Lopez and Cristian Lopez Azompa understand the power of community; they "co-parent" the children of East Topeka, Kansas. As community leaders and co-parents, they are committed to the needs of Topeka's parents and children. Hoping to turn the area into a safer neighborhood, Captains Brook and Cristian want to bridge the gap between family and church and grow disciples and saints.
Brook was a challenging disciple when she met the Army. An atheist who questioned Salvation Army officers on a drive to a family funeral, she had an explanation for every act of faith. Her conviction and intelligence convinced the officers to invite her to teach atheism as part of the religion classes offered. One requirement was that Brook had to attend Sunday services. Three months later, she accepted Christ. Cristian, who is from Mexico, became a believer when God saved him from suicide. He understood God had better plans.
After attending the College for Officer Training and serving four years in Muscatine, Iowa, Lieutenants Brook and Cristian arrived at the Topeka (Citadel), KS Corps. The corps needed their co-parenting skills, so the Lieutenants went into action. Partnering with local police and fire departments, they led a boxing ministry for the children. They also started a teen ministry, a praise band, and a singing company for kids. For the adults, they created a Spanish women's and men's ministry. They have grown the corps to 122 children and adults. Captain Brook says, "Our church is alive; let the children come."
Topeka (Citadel), KS, Corps
The Salvation Army has served the marginalized community of Topeka throughout the years by developing many youth programs to support the children. For example, in 2002, the Topeka (Citadel), KS Corps partnered with the Brown Foundation to launch a Books For Kids program at the corps The foundation developed this program to address the significant distance low-income families needed to travel to visit a library. Books for Kids brought the library closer to these families by providing books and resources to neighborhood organizations, like the Topeka (Citadel) corps.
Similarly, corps officers Captains Brook Lopez and Cristian Lopez Azompa recognized the need for a safe space for the children to engage and learn. So, they partnered with the Topeka police and fire departments to create a boxing program for the children in the neighborhood. Three Shields Boxing Academy provides a place for children to "knock out their problems."
These gloves are representative of the type of gloves used at The Topeka (Citadel) KS Corps. The corps partnered with local police officers and firefighters to start the Three Shields Boxing Academy on the northeast side of Topeka. The program focuses on the youth who may be exposed to gang activity and teaches them self-control and aggression management.
Gift of Chicago (Englewood), IL Englewood Corps Red Shield Center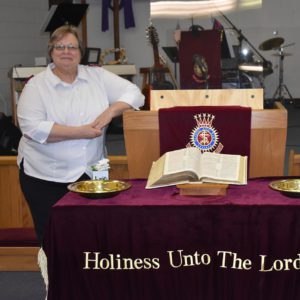 Loved into the Kingdom
Captain Lynn Lopez
"I was loved into the Kingdom," Captain Lynn Lopez describes entering The Salvation Army. "I wish everyone could experience the love I felt when the Holy Spirit washed over me when I accepted Christ."
Captain Lynn, who identifies as Native American, Icelandic, and Italian, is, more importantly, a child of God. She asked God into her heart, and he responded with a call to officership. Accepted into the College for Officer Training in 2009, she was one of four cadets of color. Remembering the words of the elders of the Native American Church, "Jesus is for white people only," she was confused about who she was in Christ." With many adjustments to a new culture, she questioned what part of her got to be an officer. She struggled with her identity until an officer suggested she find support in a fellow Native American cadet living in the Western Territory. It was then that she began to assimilate into Army culture.  Her focus became guiding new cadets and sending soldiers to training. In her ten years of service, Captain Lynn has trained eight cadets and sent two soldiers to training – "loving them into the Kingdom."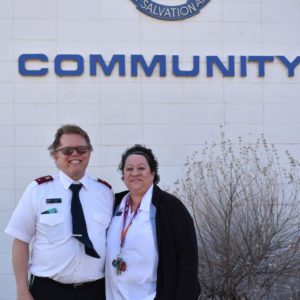 Who Am I?
Lieutenants Elis G. Pomales and Ada R. Diaz-Fajardo
Born in Puerto Rico, Elis Pomales always liked helping others. He was a curious child who listened intently to the world around him and to the inner voice that consistently said, "Who am I?" He attended high school with Ada R. Diaz-Fajardo, who became his helper when he could not see the handwriting on the blackboard. She also liked helping others in need. Together, as children and young adults in Puerto Rico, they witnessed the work of The Salvation Army.
Elis attended college at the Pontifical Catholic University, where he studied and received a BA in Nuclear Mathematics. Nevertheless, his inner voice kept asking, "Who am I?" After Elis and Ada married Elis received a scholarship to earn a master's degree in education from the University of Iowa. They moved to Iowa City.
God intervened. Ellis worked for Walmart when a co-worker invited him to a Salvation Army picnic. They were nervous about being the only Hispanics at the event, but they were welcomed with open arms and became a part of the Salvation Army family.
After becoming Salvationists and later corps sergeant-majors, Ada and Elis received the calling for officership simultaneously; she was at Wonderland Camp, and he was at home with their child. They both welcomed the challenge of officership with open arms and were commissioned in 2017.
Today Lieutenants Elis and Ada offer Hispanic ministry across the Central Territory. They began a Hispanic corps in Iowa City, served as chaplains at the Adult Rehabilitation Center, Iowa City, IA. preached Spanish services in Salina, Kansas, for two years, and now serve as the corps officers at the Logansport, IN Corps.