The Key
Envoy Artee Lewis
Basketball was the key. Envoy Artee Lewis learned to play with the neighborhood's best at Detroit's (Temple), MI  Salvation Army Community Center. Those days of playing six to eight games back-to-back not only made him a good player but brought him closer to God.
Artee was born and raised in Detroit, where his mother was a Methodist minister. During his youth God called him to be a minister too, but Artee chose a different path. However, in 1990, after he lost his factory job, Artee began to pray and asked God to help him find a job. God answered his prayers and steered him to The Salvation Army, where they offered him a job. He became a driver and pantry helper.
Envoy George Blackman encouraged Artee to listen to God's call. His teaching and preaching inspired Artee to turn his life over to God. Artee continued working for The Salvation Army in Detroit until he and his wife Esther were appointed Corps Administrators in Flint, MI., where Artee attended college.
Today, Envoys Artee and Esther Lewis serve at the Detroit (Temple), MI Corps. They serve ten zip codes that are experiencing the hardships of poverty, drugs, abandoned housing, and the loss of the local economy. Nevertheless, the Envoys work hard to bring the community together with events and programs such as rummage sales, Praise in the Park, health fairs, and family night. They strive to be the key in people's lives.
Crescendo Detroit
A partner of Detroit (Temple), MI Corps  
The partnership developed between Crescendo Detroit and the Detroit (Temple), MI Corps allows both organizations to address broader community needs.
Crescendo Detroit is a dynamic music and dance program offered to the youth of Detroit hosted by The Salvation Army. The organization shares the Army's focus to teach the whole child and to build confidence and character.
Children receive t-shirts like this one when they participate in the Crescendo Detroit programs.
Gift of Crescendo Detroit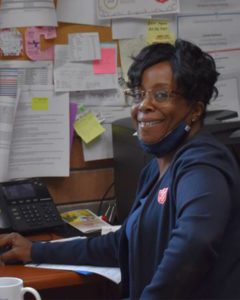 Carolyn Robinson
Case Worker and Volunteer Coordinator 
Mrs. Carolyn Robinson came to The Salvation Army as a work-study student after returning to college at fifty. An ordained minister, licensed social worker, and devout Christian, she wanted to make her career about working for God.
Today, Mrs. Robinson serves the Detroit (Temple), MI Corps. She assists the elderly, disabled, and single parents of the community by providing resources, rental assistance, and hygiene kits. She loves helping the community and giving back.
Cleaning Supplies Bucket
2021
During spring and summer storms in the Midwest, flooding can occur and water can infiltrate homes. If not cleaned promptly water pools on floors, gathers in the walls, and can cause wood and insulation rot, and mold often develops.
The City of Detroit experiences these types of storms and flooding happens. The Detroit (Temple), MI Corps provides cleaning buckets like this one to area residents to mitigate water damage.
Gift of Detroit (Temple), MI Corps