No Other Place Like it
Majors Gail and Phillip Aho
Using the gospel as a guide, Majors Gail and Phillip (Phil) Aho excelled at building community, creating safe spaces, and building the congregation of God. Together, they found living in this world, through the mission of the Army and serving others, to be a blessing, saying, "There is no other place like The Salvation Army."
Major Gail has been a Salvationist her entire life, attending the Wichita (North/Orchard Heights), KS Corps since infancy. As she matured, Gail served others by teaching Sunday school, acting as secretary and bookkeeper, and helping lead day camp for the children of the community. When God called her to officership at age nineteen, she applied to the College for Officer Training (CFOT) and entered the Joyful Evangelists session.
Major Phil was introduced to the Army during his college days by a classmate (Michael Fuqua, son of Salvation Army officers) who invited him to help teach beginner band and play in band in Duluth (Citadel), MN Corps. Although he loved the music, the relationships with the people brought him back each Sunday. As a result, Phil entered CFOT in 1978.
The Ahos married in 1980 and a year later began a three year appointment in Gary, Indiana where they lived behind the corps. This became a theme in their work; wherever possible, they wanted to be in the communities they served.
In 2013, the Ahos were appointed to the Midland Divisional Headquarters in St. Louis. They worked with Captain Steve Diaz, the corps officer at St. Louis (Temple), MO Corps, in the Temple House initiative. Major Gail and Captain Steve led Temple Houses, today called City Mission Collective, to become a thriving faith-based missional community of young adults who would live and serve together in the St Louis Benton Park West neighborhood.
Major Gail and Major Lonneal Richardson worked together on a community project following the 2014 Michael Brown murder in Ferguson, MO. The team helped establish the Ferguson Community Empowerment Center with the Urban League. The Center stands as a symbol of hope, providing economic and educational empowerment and support.
Majors Aho retired in 2020. They believe the work of The Salvation Army is the work of the gospel. Major Gail said, "I think, as Christians, we need to speak of ourselves as being part of a congregation of the Church instead of referring to ourselves as belonging to a certain church." Major Phil adds, "We spend so much time trying to be a church. The Salvation Army is a peculiar and unique expression of the Church. We are TSA, and there is not another place like it."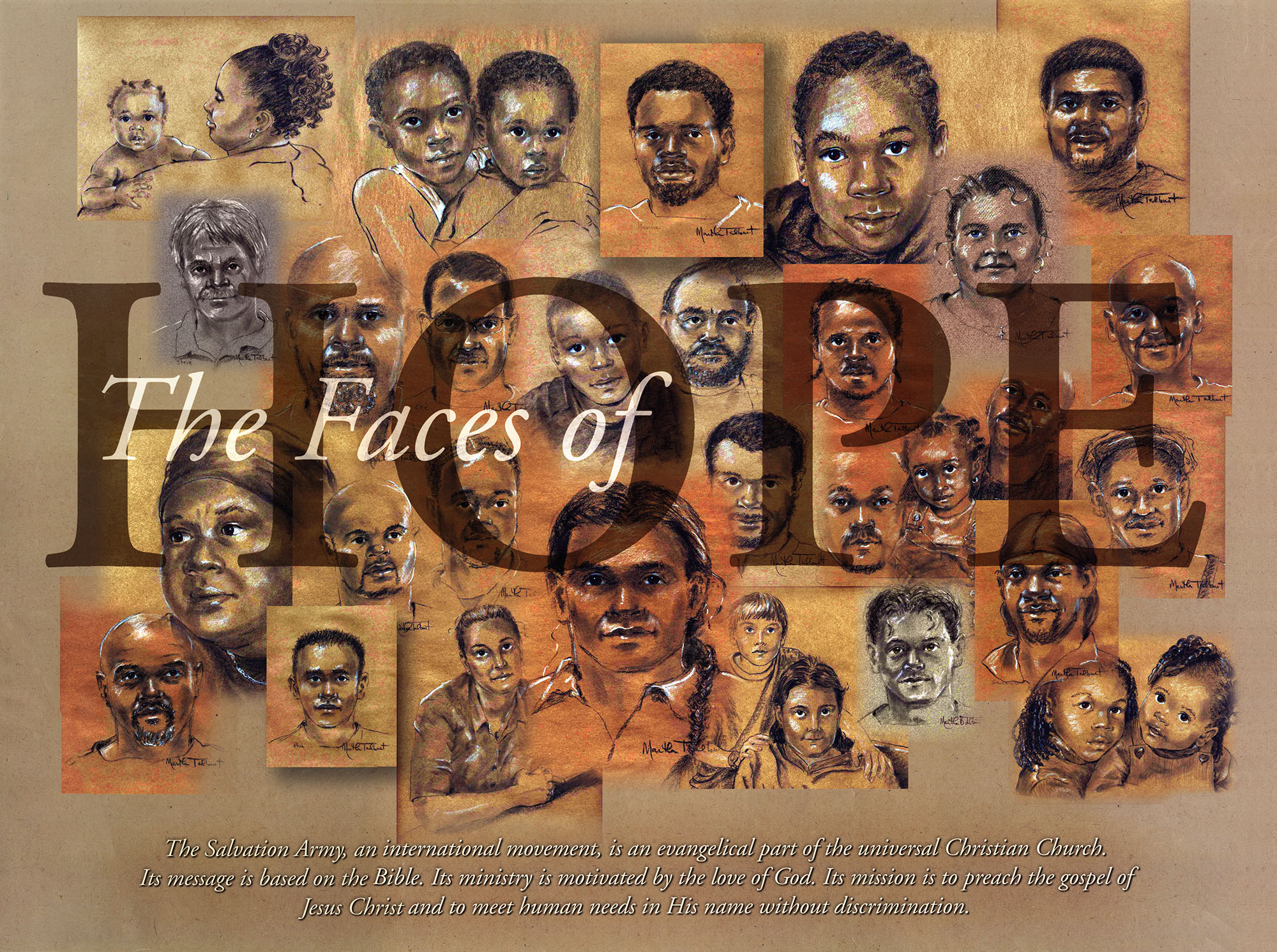 Poster
Faces of Hope
A recreation of the poster that hangs on the door into the gym of St. Louis (Euclid), MO Corps. It represents the faces of the community.
Major Karen Pitter Holness hung it to remind the youth who used the gym that there is hope, saying, "The expectations and success of young black men in the community are low; we need to provide hope in every way possible."
Bloom Where You Are Planted
Captains Patrick Holness and Karen Pitter-Holness
Growing up in Kingston, Jamaica, Captains Patrick Holness and Karen Pitter- Holness embraced The Salvation Army life. At age thirteen, Karen found her love of preaching, and Patrick discovered his love of music, and they both found each other.
In Jamaica, children learn that education and good manners will take you through the world. Patrick took this motto to heart and became a high school music teacher in Kingston, and his musical gifts earned him the position of bandmaster for The Salvation Army Caribbean Territorial Band. Likewise, Karen's gifts were guiding and managing people in the travel industry. Years later, both in successful careers in Kingston, Patrick was recognized for his musical talent. Patrick accepted a job as the youth and music director at the Evanston, IL Corps, and he and Karen moved to the United States.
While in Evanston, Patrick heard the call to officership. Karen did not. She loved preaching and helping those in need but felt the inequities in America for the Black community were so significant that she did not see a way to overcome them. It was, however, those inequities that became the catalyst for her decision to go to training. She must deliver the message of hope.
Twenty years later, the captains have served marginalized communities across the Central Territory. Sharing the same motto of their youth, they teach young Black children how to walk tall, look people in the eye, and embrace the idea of "bloom where you are planted."
Lieutenant Breanna James
Spoken word "For His Glory"
2019 
Lieutenant Breanna James composed this spoken word testimony as a second-year cadet at The College for Officers Training. She delivered the piece at the Territorial Commander's Sunday. As she reflects on her reasons for creating this powerful piece, she writes:
"When I look back over my life, I can't help but think about God's grace and mercy. While facing different problems during difficult milestones in my life, I am able to recall all those times that Jesus held my hand. Through every situation, every trial and tribulation, He was there. I wrote this spoken word because I believe that it speaks to the one who may be lost, the one who may feel forgotten, and even to the one who has lost all hope. I want them to remember that everything we go through, we are not alone, that God is with us every step of the way.
"Do not be afraid or discouraged, for the Lord will personally go ahead of you. He will be with you; he will neither fail you nor abandon you." (Deuteronomy 31:8 NLT). The God of all creation, a being beyond the limits of time and space, is in your corner, so be encouraged!"
Shawn Stock
Community Center Director 
A Kansas City native, Shawn Stock stumbled through the first few decades of his life. A twenty-year methamphetamine addict, Shawn found a clear life path when he became a beneficiary at the Adult Rehabilitation Center (ARC) in Kansas City. His corps officer, Major Janice Love, impacted his life further by accepting the ARC beneficiaries into the congregation, and now Shawn serves the community.
As the community center director, Shawn partners with organizations to create immersive programs for the youth of the eastside neighborhood; in doing so, he hopes to impact others.
Mr. Wallace has been a Soldier at the St. Louis (Euclid), MO Corps for sixty years. He participates in all aspects of corps life and the volunteer services program. He plays in the corps band, teaches classes, serves on the corps council, and participates in men's and community care ministries. In addition, he serves the community by volunteering at the food pantry, ringing bells during the annual Red Kettle Campaign, and leading others to God through his kindness and example.