This oh so tasty annual event is generally said to have begun over 80 years ago on June 6, 1938 in Chicago, IL. Recently while searching the term "National Doughnut Day" in an online historic newspaper database I found hundreds of articles from across the country which told a very different story.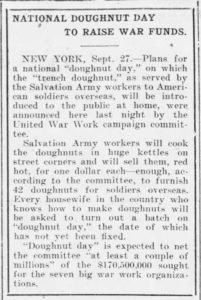 It appears that the first Salvation Army Doughnut Day event was held in Chicago as part of a "coffee and doughnuts" fund campaign which ran from August 11-19, 1918. A variety of fundraising techniques were used including: soliciting corporate donations; a charity boxing match (which was canceled); and street collection which featured spectacles such as elephants and chorus girls. On August 16th 40,000 doughnuts were offered for sale. It was estimated that each doughnut sold in Chicago financed six doughnuts for soldiers in combat.
In September and October 1918 a press release was published in a handful of newspapers nationwide. It announced that National Doughnut Day would be held November 11-18. The intent was to sell doughnuts for $1 each to fund part of The Salvation Army's $3.5 million goal towards of the United War Work Campaign. The money funded War Service work the following year.
While the plans for a National Doughnut Day were in black and white and had been read all over, it wasn't a success that first year. The timing for the first National Doughnut Day campaign couldn't have been worse.  The armistice which functionally ended World War I took effect on November 11, 1918 – the very first day of the campaign.  Those few corps known to have participated included ones in Buffalo, NY, Des Moines, IA, San Francisco, CA, and Tampa, FL.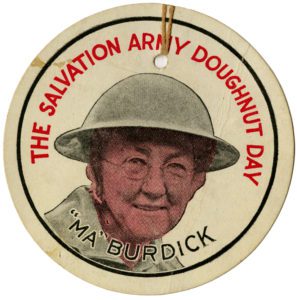 In 1919 The Salvation Army USA launched its Home Services Fund. Fundraising lasted a week and combined Doughnut Day events with other fundraising techniques. Doughnut Day programs sometimes included actual World War I Doughnut Girls who cooked doughnuts in recreated war time huts.
During the 1920s Doughnut Day became a popular fundraising event held annually by corps nationwide. By the mid-1930s, few corps still participated.
Then, in June 1938 Chicago held its first Doughnut Day after an eight year hiatus. The funds raised supported the Army's social services programs in the city.
Over time, annual local and regional newspaper coverage omitted that Chicago had not hosted Doughnut Day between 1930 and 1937. Articles often completely failed to mention Doughnut Day events held nationwide between 1918 and 1937. Column space being at a premium, eventually coverage simply noted that Chicago hosted the first Doughnut Day in 1938.