Ensign Minnie "Ma" Burdick was well known and loved by the American troops who served in France during World War I. One way that she showed her love for the men she served was through her cooking.  Ma's Salvation Army hut menu featured doughnuts, Shrapnel Cake, flapjacks, pies and more.
Ma's most renowned talent was in baking pies.  Her first oven was a cracker tin adapted for pie baking by Pa.  It fit two pies.  The first two she made in that oven were apple and pumpkin.  Eventually, she gained access to a much bigger portable oven.  She is the first and one of three total Salvationists to be awarded the prestigious Croix de Guerre from the French Government.  This honor was first developed during WWI and recognizes those who have distinguished themselves through heroic deeds in combat with the enemy.  Ma earned this medal by baking 324 pies in a single 12 hour period during a constant barrage of German artillery fire.  She was recognized for this act of selfless heroism by General John J. Pershing.  Her award came complete with additional palms signifying distinction.  The other Salvationists to receive this award were Cora Van Norden and John Allen.
In 1919 The San Antonio Evening News printed three recipes that Ma Burdick used to make for hungry soldiers during World War I. Each recipe is listed below in its original form and with a modern interpretation.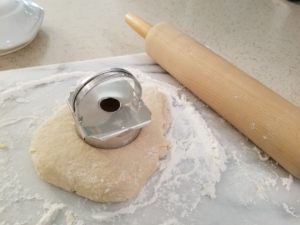 There wasn't one official doughnut recipe used by World War I Salvation Army Doughnut Girls.  Each woman used her own recipe, or even a few different recipes.  Lieutenant Helen Purviance knew of three that were in common use.  Some recipes contained eggs, while others did not as they were very hard to find in France.
In 1919 The San Antonio Evening News printed three recipes that Ensign Minnie "Ma" Burdick used to make treats for hungry soldiers during World War I. When asked what the most important part of making doughnuts, Ma replied "speed." She added, "The secret's in the mixing." Other Doughnut Girls agreed that the secret to a good doughnut was in how the dough was mixed or kneaded.
Ma Burdick's Original Doughnut Recipe (makes 600 doughnuts)
12 quarts flour
6 quarts sugar
24 tablespoons baking powder
3 teaspoons salt
3 quarts milk
lard for frying
Modern Interpretation (makes about two dozen doughnuts)
2 cups flour (plus 1 cup for kneading and rolling the dough)
1 cup sugar
1/2 cup milk
1 teaspoon baking powder
1/8 teaspoon salt
Canola oil, vegetable oil or lard for frying
Directions:
In a large mixing bowl combine flour, sugar, milk, baking powder, and salt.  Stir to make a sticky dough.  Generously dust a clean work surface with flour, adding a half cup of flour in the center.  Pour the dough on top of the flour and kneed, incorporating the flour as you knead the dough.  Add more flour as you need to make a soft, silky dough.  Flour a rolling pin and roll dough to a quarter inch thickness.  Using a doughnut cutter or other round cutter, cut out doughnuts.   Let doughnuts rest as you prepare the oil for frying.  Heat oil to just under boiling (350°F if using vegetable oil).  Use a small scrap of dough to test your oil.  The test doughnut should cook through in three minutes.  Add doughnuts in small batches.  Using a fork or slotted spoon, turn doughnuts once or twice.  When they are cooked to a golden brown (about three minutes) remove from oil and let drain on paper towels or brown paper bags. When completely cool, store in an airtight container for up to a week.
Baking Tip: During World War I, many Salvation Army doughnut recipes used ingredients to flavor the doughnuts.  To your dough try adding:
A dash of ground nutmeg, or
1 teaspoon of vanilla extract, or
1 teaspoon of vanilla extract and 1 teaspoon ground cinnamon
Doughnuts may also be dusted with powdered sugar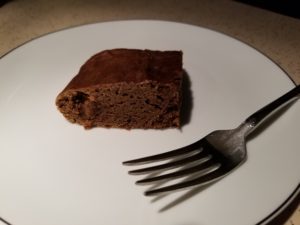 Ensign Minnie "Ma" Burdick developed this recipe during her World War I service in France.  One night she heard two soldiers, who were also brothers, reminisce about the gingerbread cake that their mother used to make for them when they were children.  After hearing their story, she asked them to return to her hut (canteen) the next day.  Upon their return she handed each of them a piece of her brand-new Shrapnel Cake, which was her interpretation of the cake made by their mother.  It was one way that Ma could make these men feel comforted and a bit closer to home.
Gingerbread, both in fluffy cake and cookie forms, was popular from the mid-nineteenth century through the early decades of the twentieth century.  Ma's Shrapnel Cake, a fluffy gingerbread with raisins (the shrapnel), quickly became a favorite of World War I soldiers.  Ma could not often get fresh eggs to bake with while she was in France.  She used recipes that were made without eggs to work around this wartime shortage.
Ma's Original Recipe (makes 3 cakes)
2 large cups sugar
1 cup molasses
2 cups milk
1 cup strong black coffee
3 heaping teaspoons cinnamon
1 heaping teaspoon clove
1 teaspoon salt
1 teaspoon baking soda
1 teaspoon baking powder
2 large cups raisins (the shrapnel)
Flour to make a stiff batter
Modern Interpretation (makes 1 cake)
2 1/4 cups flour
3/4 cup raisins
2/3 cup sugar
2/3 cup milk
1/3 cup molasses
1/3 cup strong black coffee
1 heaping teaspoon cinnamon
1/2 level teaspoon baking powder
1/3 heaping teaspoon ground cloves
1/3 level teaspoon salt
Baking Directions
Pre-heat oven to 350°F.  Butter and flour, or oil a baking 8" x 8" baking dish or cake pan.  In a large mixing bowl combine the raisins, sugar, milk, molasses, coffee, cinnamon, baking powder, ground cloves and salt.  Stir with a spoon to combine the ingredients.  Add the flour a little at a time to form a stiff batter.  Pour batter into baking dish and smooth to edges.  Bake at 350°F for 35 minutes or until a toothpick inserted in the center of the cake comes out clean.  Let cool at least five minutes before cutting and serving.
Baking Tip: Ma also had trouble getting fresh milk to bake with while she was in France.  Instead, she used evaporated milk.  To make your recipes just like Ma used to make, swap the 2/3 cup milk for 1/3 cup evaporated milk and 1/3 cup water.
Baking Tip: Topping the cake with cream cheese or vanilla frosting adds a delicious touch.
Since the war made eggs scarce on the front lines these flapjacks are a little more dense then the normal pancakes we enjoy today.
Ma Burdick's Original Flapjack Recipe (makes 50 flapjacks)
1 quart flour
2 heaping teaspoons baking powder
1 teaspoon salt
Milk to make a soft batter
Beat until light.
Modern Interpretation (makes about a dozen baseball sized flapjacks)
1 cup flour
1/2 teaspoon baking powder
1/4 teaspoon salt
1 cup milk
Directions
Preheat a skillet over medium heat. Mix together all ingredients, should make a light, soft batter. Pour about a quarter cup of batter for each flapjack. When edges of flapjack start to pull away from pan flip and cook on other side. Repeat until all of the batter is used.
Baking Tip: While these look like normal pancakes don't wait until you see bubbles all over to flip them. Waiting that long will overcook.
Baking Tip: Enjoy the flapjacks with syrup, butter, whipped cream or even favorite ice cream toppings like chocolate.