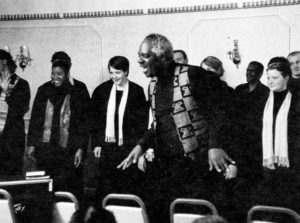 A third-generation Salvationist, Envoy Kenneth Burton's love of music began at an early age. His mother, a music director, encouraged him to master the baritone horn. Through the direction and support of Eldon "Donny" McIntyre at the New York (Harlem Temple), NY Corps, he did. In 1976, his brothers, Brett and Lewanne Dudley took music one step further at the New York (Harlem Temple) Corps and brought Gospel and brass band music together to inspire the Black youth. They formed a Gospel group called New Sounds for Christ and traveled around the United States and the Caribbean to offer a new type of ministry. The group, the first of its kind, is also the longest-running contemporary Gospel group within the Army. Envoy Kenneth became its leader two years later and still holds the belief music is the best way to reach Black youth today.
In 1977, Envoy Kenneth served on the Black Ministries Committee which made recommendations to the Territorial Commission on Planning and Goals regarding Salvation Army ministries within the Black community. He served along with Lt. Colonel B. Barton McIntyre, Envoy Delilah Collier, and Major Gwendolyn Jones, among others. Together they developed a new curriculum for Black officers and new program series that would engage the Black Community.
A celebrated member of the New York (Harlem Temple) Corps, Envoy Kenneth received Musician of the Year in 1988 in the New York division, "Man of the Year" in 1992, and his proudest achievement, in 2004, as an Order of the Founder recipient. He has been described as a "tremendous influence and stabilizing force" within the community.
After retiring from corporate America in 2011, he became an envoy and was appointed to the New York (Harlem Temple) Corps. Envoy Kenneth's deep spiritual commitment to God and people, evidenced through the ministry of music and the desire to work for God's Kingdom, continues to drive him to be a leading voice for African Americans in the Eastern Territory.