Two things I ask of you, Lord; do not refuse me before I die: Keep falsehood and lies far from me; give me neither poverty nor riches, but give me only my daily bread." Proverbs 30:7-8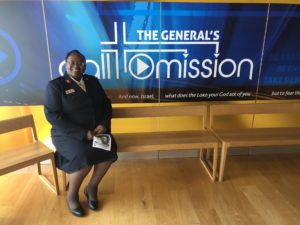 An academic who chose the path of God, Major Katherine Clausell pursued advanced degrees in psychology, unbeknownst to her, to become a leader at the intersection of social and racial justice.
Katherine always felt the call to minister through social activism. While attending college, she was involved with Campus Crusade for Christ, and she grappled with the decision to pursue a full-time Christian ministry or graduate school. In her junior year as an undergraduate at Purdue University in Indiana, Katherine found herself under the tutelage of an African American professor hired to run the psychology clinic. They became friends. She confided in him her struggle to decide on graduate school or a full-time Christian ministry. The professor, a Salvationist, shared with Katherine his background with The Salvation Army. He encouraged her to enjoy some time off from classes and visit the Army's Camp Ladore in Pennsylvania, which could help her decide. She made her way to Scranton and enjoyed her time at camp. It was her first introduction to The Salvation Army.
After completing her undergraduate studies, Katherine went to the University of Alabama in Tuscaloosa, Alabama, and began a doctorate program studying clinical psychology with an emphasis on children. She decided to take a year off and applied for a job as a family outreach specialist in Chicago. The job, it turned out, was with The Salvation Army. God had brought her back.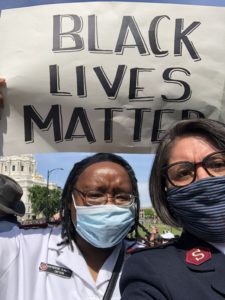 Katherine attended several corps in Chicago and found peace at the Chicago (Brainerd), IL Corps. She heard a renewed call to officership and began the candidate process to attend the College for Officer Training in Chicago. Commissioned in 2005, Captain Katherine served in many appointments that utilized her education and training in psychology and child welfare. She was the Minneapolis Harbor Light Center administrator in Minnesota and moved to the divisional social services director position before receiving an appointment at the Central Territory Headquarters in Hoffman Estates, IL. She was appointed in 2019 to a newly created position: social justice and urban ministries secretary and received the rank of Major in 2020.
Major Katherine developed the Racial Justice Summit in October 2020 with the support of officers and staff from across the Central Territory. She brought experts together to talk about diversity, equity, inclusion. The summit created space to have uncomfortable conversations about inequity within the Army. At the close of the conference, each Central Territory Division was asked to develop a plan to advance diversity, equity, and inclusion within their division. These plans will help the territory establish an equity audit that allows the entire territory to move forward with equity and inclusion.
Major Katherine is awaiting a new building in Chicago, IL, that will serve as the Center for Social Justice and Urban Mission. The center will utilize her skills and educational training. As the social justice and urban mission secretary, she hopes to raise awareness and equip salvationists to address issues such as gender equity, modern slavery, human trafficking, immigration and xenophobia, racism, and mass incarceration, to name only a few. Using the scripture as her primer for Biblical justice, Major Katherine hopes to amplify kingdom values as we seek to dismantle long-standing societal issues.