God stir us, shakes us, causing a renewed Salvation Army to emerge." Commissioner Israel L. Gaither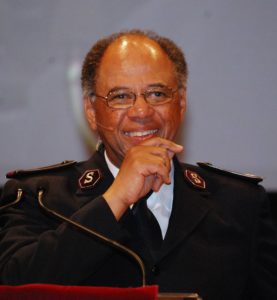 With a willingness to lead, a heart to inspire, and the gravity to draw people to God, Commissioners Israel L. and Eva D. Gaither were the catalysts who made lasting impacts on the standards and policies put forth by the Salvation Army.
The couple married in 1967 amidst explosive racial issues. They were the first biracial couple in The Salvation Army. Although they received approval from leadership to marry, then Lieutenants Gaither experienced racial tension in the early days of their marriage. They chose to rise above the contention and started down the path of change.
The 1960s was a tumultuous moment in American history. Race riots occurred across the country. Nevertheless, Captain Israel "kept his cool," as noted in a Pennsylvania newspaper, when he served alongside volunteers in Pittsburgh. He helped the very people that rallied against the Black community.
During this time, Lt. Colonel B. Barton McIntyre thought it was important for Black officers to assemble and discuss issues both in the Army and the country. He brought together Major Abraham Johnson and Captain Israel to organize a meeting of Black Officers. Unsanctioned by the Army, this meeting, held in 1969, encouraged new ideas and policies, including a 12-point plan of racial inclusion.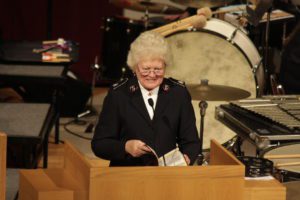 Through their successive appointments, the Gaithers grew as leaders. They were recognized for the positive image they modeled and as "people of integrity who could be trusted by all Salvationists, regardless of color or ethnic background."  When named New York Divisional Youth Secretaries, the Gaithers impacted thousands of young minds with their ministry.
In 1977, Captain Israel served as vice-chair on the Black Ministries Committee, convened to advise the Eastern Territorial Commission. The committee made recommendations about programs, literature, and music, among others. In 1988, Major Israel attended a committee meeting called the Black Ministry Consultation to address issues specific to Black Salvationists. It ended with a formal statement addressing affirming, diversity, and building unity of The Salvation Army.
Commissioners Gaither experienced many firsts throughout their career as officers in The Salvation Army. They were the first biracial couple, contributors to the first policies of Black officers; first African American Territorial Commanders; Commissioner Israel was both the first African American Chief-of-Staff; and the first African American U.S. National Commander. Their impact and leadership crossed racial lines and decades of impactful ministries that affected millions of people and Salvationists alike.
Through their successive appointments, the Gaithers grew as leaders.