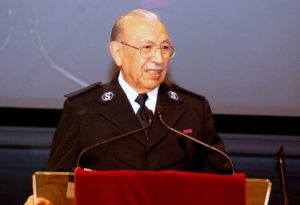 Raul Guerrero trailblazed his way from Santiago Chile to Chicago, Illinois, and Southern California, setting a standard of outreach and corps planting to Hispanic communities in two territories over sixty years.
Like many future officers, his first exposure to The Salvation Army was through Sunday School. He accepted Christ in 1937 at an open-air meeting, and at the age of 18, he applied and was accepted into The Salvation Army College for Officer Training. But when his father died suddenly, Raul became responsible for his mother and three siblings, and he was unable to attend training. Raul did not let his circumstances dissuade his purpose with the Army. He served his corps by accepting the Corps Cadet Counselor position and later Corps Sargent Major. While serving his local corps over the next twenty years, Raul earned a degree in accounting and established a business as a tailor and designer in Santiago.
Recognizing his potential, Raul was offered a position in Chicago with the Central Territory Supplies and Purchasing Department (now Trade Central), which he gladly accepted and immigrated to Chicago in 1958. After a few years, he resigned from his position and opened his own tailoring business.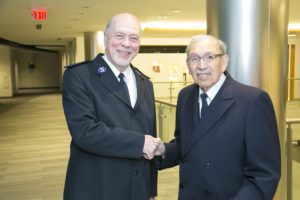 Shortly after he arrived in Chicago, Raul began an outreach ministry with the Hispanic community surrounding the Chicago (Temple), IL Corps. He noticed meetings were held in English when the neighborhood residents were mostly Puerto Rican who spoke Spanish primarily. By speaking their native language, he was able to grow the corps. His love of sharing the Gospel proved instrumental in "planting" three new Spanish-speaking corps in the Chicago area.
Raul had a dynamic personality, a ministerial heart, and was exceptional at engaging the Hispanic community. It seemed natural when he retired from his successful uniform production business in 1987 that he accepted an invitation from the Western Territory as the coordinator of Hispanic Ministries. Raul moved to Southern California and assisted in the opening of four corps. He mentored future leaders and officers and lead Bible studies into his 80s. Raul's outreach to Spanish speaking communities distinguished him among leaders, and in 2001, he was awarded the Order of the Founder, The Salvation Army's highest honor. Recognized for his "outstanding service to the Latino community in two territories in the United States."
After his second retirement, Raul served on several advisory groups such as the National Soldiers' Commission and National Committee for Ministry to Minorities.
Raul Guerrero was Promoted to Glory (passed away) in March 2018. He left behind a legendary career as one of God's greatest warriors and trailblazers preaching the Gospel to the people.