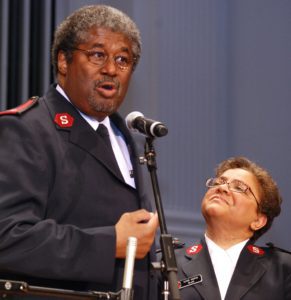 Ministry, music, and intercultural programs are what drive Majors Stephen and Diane Harper. They are loyal and steadfast to The Salvation Army's mission: "to preach the Gospel of Jesus Christ and meet human needs in His name without discrimination."
Like many married Salvation Army officers, Majors Stephen and Diane came to the Army at different times in their lives. He grew up in the segregated neighborhood of Rattlebone Hollow in Kansas City, Missouri, and met the Army through neighborhood friends. Diane met the Army with her mother through the home league at the St. Louis (Euclid), MO Corps. Both Stephen and Diane participated in after school programs and youth programs at The Salvation Army corps, and both became soldiers.
Raised by two strong women, his mother, Deloris, and his grandmother, Stephen's childhood reflected a cultural and educational foundation. Deloris emphasized the importance of learning to read music and to play a variety of instruments. This skill became an asset when he was the only percussionist at an all-white Salvation Army music celebration. The Army bandmaster noticed his talent, and Stephen recognized in himself the courage to "beat racial segregation and discrimination" with his drums. He became a member of The Salvation Army band at the St. Louis (Bell Fontaine), MO Corps.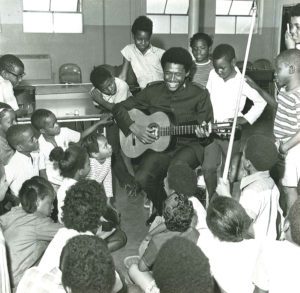 In 1969, he enrolled in the College for Officer Training (CFOT) in Chicago, Illinois, and was commissioned in 1971. His first appointment was in his hometown at the St. Louis (Euclid) Corps.
Diane attended the youth programs at The Salvation Army but still went to Sunday services at the Baptist church with her family. To appease her mother, she entered the church with her mother but left with her sister Jackie for The Salvation Army corps. The sisters liked it better there.
Her call came at a young age while in the hospital. She asked God to heal her, and in return, she would do anything. God healed her and then sent her messages and experiences, and then sent Lieutenant Stephen Harper.
Listening to his call, she left college and enrolled at CFOT. Commissioned in 1974, she began her long journey with God and The Salvation Army.
The Lieutenants Harper married after Diane was commissioned and received their first appointment as corps officers in the Midland Division until 1983.
Majors Stephen and Diane received several appointments throughout their careers. Recognized for their skills to lead, they were appointed to the Central Territory Headquarters (THQ) in Chicago, Illinois (now located in Hoffman Estates, Illinois). He became the candidate's secretary, and she the assistant Territorial Student Fellowship secretary. They were the first African-American officers assigned to THQ appointments in the United States. They were appointed to several other territorial positions while at THQ.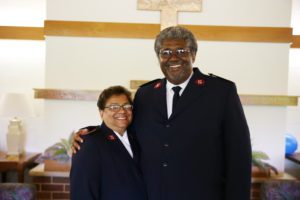 As the cross-cultural ministries bureau (now intercultural ministries department) director, Major Diane initiated the inaugural African-American Council of War at the 1995 Central Territory Congress. A gathering of twenty-two African-American officers whose purpose was to "communicate the importance of African-American leaders of The Salvation Army ministry and their individual contributions as leaders in the Army." It was a successful meeting that reemphasized the organization's goals- "that Christ died for all, and we must come together under the cross with the mission of His salvation and freedom for all," regardless of race.
Although Major Stephen and Diane understood the importance of their work at THQ, they missed their corps work, saying, "We missed the congregation-watching the children grow, and helping families through crises." Their last appointment was as Metropolitan Division pastoral care directors.
The Majors Harper had a long relationship with The Salvation Army. Major Diane served for forty-one years and Major Stephen for forty-five years. Major Stephen was honored as the first African-American officer in the Central Territory to serve a contiguous forty-five years at their retirement ceremony.