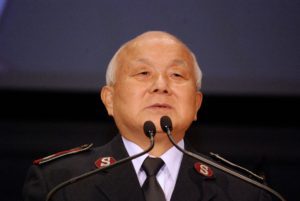 When appointed to serve in the Central Territory in fall 1988, Majors Paul and Anna Kim moved their family to Chicago. They were tasked with starting a new corps that focused on a Korean ministry. Committed to their assignment, they began a corps without a building or a congregation.
For three weeks, the Majors Kim sang, prayed, and held full meetings, in full uniform with only their immediate family in the living room of their home. The next week they gained a new member, and the congregation grew exponentially from there.
Named the Chicago (Korean), IL Corps in 1988, the corps served Korean immigrants. Majors Kim, ever faithful to their ministry, believed "the power of prayer and the ownership of the soldiers" is what led to significant growth over the next twenty years.
In 2005, a new building was constructed to accommodate a growing and diverse population. The name change that followed, Mayfair Community Church (now Chicago (Mayfair Community Church), reflected new Spanish speaking and English-speaking Bible study to embrace the entire Mayfair community. The new chapel provided enough space for 750 people. Today, the Chicago (Mayfair) Corps is known as one of the largest corps in the United States.
Leading the way in inclusive ministry, the Chicago (Mayfair) Corps now serves three distinct congregations: Korean, Spanish, and English speakers. Embracing their cultural differences and learning from each other, the Chicago (Mayfair) Corps is a congregation that would not have been possible without the guidance and direction of Colonels Paul and Anna Kim.