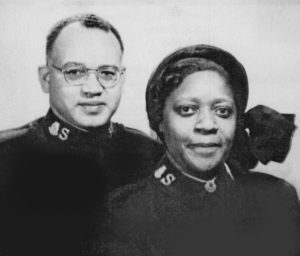 Lt. Colonel B. Barton McIntyre, a Canadian, began his work with The Salvation Army in Harlem Temple New York. The Army quickly appointed him to the Cleveland, OH Corps where he could serve the Black community. There, he led the "colored corps" for sixteen years when, in 1949, Colonel Barton began his journey as a visionary. He acknowledged segregation within the Army. The small act of submitting a request to change the name of the "colored corps" to the Central Area Corps, which was accepted immediately, sent waves of change thought the Army. The request alerted Army Divisions of the quandary segregation created and subsequently removed the word "colored" and other racial terms within the Army. Colonel Barton knew it was a small step towards an equitable future.
Moving from Cleveland back to Harlem in 1955,  Colonel Barton demonstrated his leadership with a new theme called "Watch Us Grow." He led the New York (Harlem Temple), NY Corps from 1955 to 1968 and grew the corps to enormous numbers. However, it was his work with other Black officers and issues regarding race relations within the Army that made a lasting impact. A committee gathered in 1969 to address issues concerning the inclusion of Black officers and the Black community within the Army. The impact of this meeting resulted in the Multi-Cultural Department (now called Intercultural Department) in the Eastern Territory and the 12 point-plan of inclusion for Black officers.
In 1969, Colonel Barton was appointed lt. colonel, the highest office ever achieved by a Black officer at that time.