God sees color. God created color. Color is beautiful." -Captain AJ Zimmerman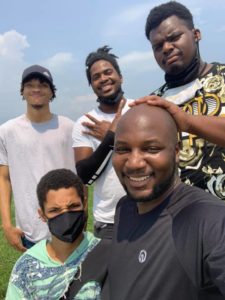 Captain AJ Zimmerman is a people person. He loves seeing the impact The Salvation Army and its programs have on people and communities. As the assistant territorial youth secretary, he helps create programs that have long-lasting effects on children and their futures.
During his childhood in Detroit, Michigan, AJ witnessed first-hand the impact the Salvation Army can have in communities. First introduced to The Salvation Army at age nine, AJ began participating in the Army's after-school programs when a friend invited him to play basketball. He learned later in life that his family received assistance through various Salvation Army social service programs.
A few years later, at age seventeen, he began working at The Salvation Army. He worked with the same after school program he participated in as a young boy.
Through this job, he discovered he liked working with children. AJ soon began living and working at Echo Grove Camp and Conference Center, north of Detroit. He loved the work and ministry and wanted to share it with others.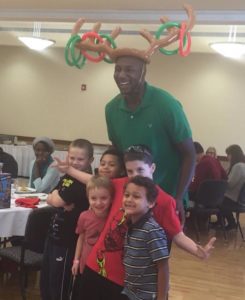 But he wasn't sure the Army life was for him. He did not think someone with a big personality, like his, could be an officer. That all changed in February 2011, when he attended Regeneration, a Salvation Army conference specifically for young adults. The speaker, Terry Masongo, an African American, spoke about salt and light. His teachings helped AJ understand that salt has many uses, such as preservation, medicine, and flavor. God calls some people to bring out the "God flavors" in others. This sentiment resonated with AJ, who understood that his purpose was to bring out the flavors, to bring out the joy in others. He applied to the College for Officer Training in June of the same year.
Commissioned in 2013, in the Proclaimers of Resurrection session, he was appointed to the East St. Louis, IL Corps (now St. Clair County, IL Corps) as a corps officer. Here, he made an impact on fifty young Black boys. Recognizing most of the boys did not have a father figure in their lives, he knew he could be the figure they needed. He participated in their lives and said, "I am proud of you," "I love you," and "You can do this," all words that fathers say to their children. "They needed to see that, to be that," Lieutenant AJ said. He changed the trajectory of these boy's lives, and now the men can change the lives of others, "it's a generational impact."
Lieutenant AJ was next appointed to serve at the Chicago (Kroc Center), IL Corps as corps officer and brought the same strategies with him. In 2019, he was appointed to serve at the as assistant territorial youth secretary and territorial candidate specialist in the candidates' department at the Central Territory Headquarters in Hoffman Estates, Illinois.
During the Racial Justice Summit in 2020, Captain AJ fielded questions from participants to speakers. He agreed the summit had and will continue to have an impact. He noted, "We can't afford to struggle with race, we are the Army, we need to continue these conversations and have empathy for the questions." The impact can be generational!