'For I know the plans I have for you,' says the Lord. 'They are plans for good and not for disaster, to give you a future and a hope.'" Jerimiah 29:11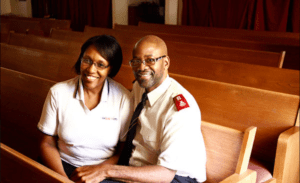 Striving for authenticity by seeing and serving with the eyes of Christ, Majors Kendall and Katrina Mathews are trailblazers for The Salvation Army.
Kendall grew up in Northwest Detroit in a middle-class Jewish neighborhood. Katrina grew up in public housing on the westside of Chicago. They had different experiences, but both flourished because of the love of caregivers. They have carried that love with them throughout their careers.
Introduced to The Salvation Army at seven years old, Katrina attended Sunday school at the Chicago (Midwest), IL Corps across the street from the apartment she shared with her sister and grandmother. Her grandmother always encouraged her and gave her words to live by: "Be yourself!" and "Be better than what people expect!" and, "You do not have to be the example. You can be the success."
Kendall did not meet the Army until 1984, when he was a junior in college. He came across an ad for a paid camp counselor position at Wonderland Camp and Conference Center in Camp Lake, Wisconsin. Kendall needed to complete twelve credit hours of practicum for his social work and psychology degree and thought this was his opportunity. Kendall confirmed with his advisor that this type of work would be acceptable, and off he went to Wonderland Camp.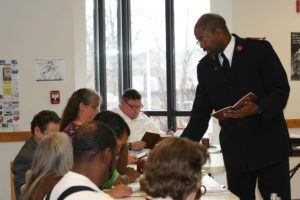 After graduation from Greenville College in Greenville, Illinois, in 1985, Kendall went back for a second summer at Wonderland Camp. When the last session of children went home, Kendall rode the bus home with the children to see where they lived. He came across his first Salvation Army corps, the Chicago (Midwest) Corps. Without hesitation, he went inside the corps office and inquired about a job. They were looking for a social worker and a psychologist. The officer told Kendall, "you are what we need." The corps, located in a Black community, needed a young Black role model. He was hired and began creating programs for the youth of the community. Kendall became a Salvationist and began to teach Sunday school. He felt the call to become an officer when he witnessed the inability of corps leadership to connect with kids in the community. Kendall then moved into the community and started making a difference.
Katrina and Kendall met on a blind date in 1986. They married in 1988, went into the College for Officer Training (CFOT) in 1989, and were commissioned in 1991 in the Service of Jesus session. They were the first Black married couple with children to attend CFOT.
Learning from their life experiences and bringing that wisdom to each appointment, Majors Kendall and Katrina created holistic ministries. They want to serve the whole person. One of their holistic approaches is with the Upward Mobility program that supports Adult Rehabilitation Center (ARC) beneficiaries becoming part of a corps. This four-step program that begins with the treatment stage and ends with corps families mentoring the beneficiary to become a soldier. The program seeks to identify strengths and potential in each ARC beneficiary.
The Majors also created a program for Salvation Army corps exchange. The program brings Salvationists together to rid each other of the fear of being different. The exchange began with small corps and large corps so each could see they were the same, and it grew with corps from other states visiting and bringing their programs to integrate with others. It was a successful way to "bridge the gap" and bring Salvationists together. It was, in a sense, an equity program.
Majors Kendall and Katrina are approaching thirty years of service with The Salvation Army. They are proud of their work encouraging soldiership with ARC beneficiaries and addressing societal problems with social programs.
However, they do wish to see changes in their own organization, saying, "We need to acknowledge not 'who' we are, but 'whose' we are. We belong to Jesus Christ. We are not Black or white; we are Salvationists."