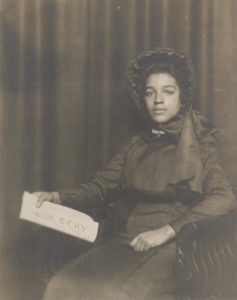 A pioneer in the Central Territory, Mabel Broome is a luminary within The Salvation Army. After spending four years as a Salvationist in the Chicago (Midwest / #3), IL Corps, she headed the call to serve as a Salvation Army officer in 1915. Accepted into the Chicago Training Garrison (now College for Officer Training) in January, she finished her intense education just nine months later and became the first commissioned Black officer in the Central Territory.
Assigned to Chicago (Austin / #22) Corps, then Chicago (Temple / #1) Corps, and later Chicago #2 Slum Settlement Corps, Lieutenant Broome began working for the communities around her. At Chicago #2 Slum Corps, she worked as a "Slum Sister," a position that required much dedication and hard work. Slum Sisters visited the most impoverished communities and aided mothers and children, the sick and disabled, by performing housework, cooking meals, mending clothes, and bathing the children. They prayed with and sang for the people they served and sought volunteers, which often came. The Sisters ministered to the patrons of brothels and saloons and conducted open-air services for everyone. They sold War Crys and solicited donations of food and clothing, and in the evenings, these officers held meetings at the corps.
Some Slum Sisters gained the community's trust and were revered by civic leaders, but others experienced animosity and distrust. Certainly, Lieutenant Broome experienced this type of behavior while serving in white ethnic neighborhoods polarized by racial differences. After serving only three years as a Lieutenant, she left the work (resigned), likely from complications with her health.
After some recovery, Lieutenant Broome committed herself to the Army again. She was reinstated and assigned to the Evangeline Booth Home and Maternity Hospital in Boston, Massachusetts, a home for unwed mothers, in 1921. There she received the rank of Ensign. Unfortunately, in 1930, Mabel suffered from a fatal infection and was Promoted to Glory (passed away).
Ensign Mable Broome is remembered for her courage during the unsettling racial disparity in American history and her love of The Salvation Army ministry.