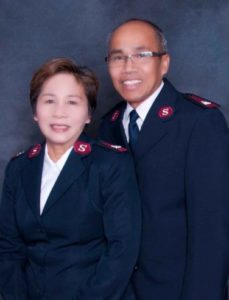 Ever faithful servants of the Lord, Majors Bounlouane (Bruce) and Champathong (Betty) Keobounhom came to the Central Territory to spread the love and the Word of God. They built Laotian Corps in Rockford, Illinois, and planted new corps all over the territory.
Major Bounlouane grew up as a Buddhist Monk in Laos in the 1960s and 70s until a deadly conflict forced thousands of Laotian people to seek refuge in Thailand. At the refugee camp, two life-changing events occurred that transformed his life. He reconnected with Champathong, a former classmate from an English class the two attended while still in Laos. They married in 1983.  While at the refugee camp, Bounlouane accepted Christ into his heart.
Together, they immigrated to Nashville, Tennessee, and gave themselves the American names of Bruce and Betty. Bruce continued to share his hope and joy of Jesus with others and became an ordained minister with the Church of the Nazarene. However, it did not fill his goal of becoming a full-time minister. He visited the Salvation Army office in Nashville and spoke to a commander about his dream of ministering full-time and building a Laotian congregation. In 1994, Bruce became a full-time corps leader with the Salvation Army in Nashville, growing a Laotian corps.
When he joined the Salvation Army, he told his Nazarene congregation and asked them to stay they did not need to follow. However, on his first day ministering in the Salvation Army corps, sixty-five people had joined him! Captain Bruce and Betty doubled that number within five months.
By 2001, the auxiliary captains established three more Laotian corps in Milwaukee and Madison, Wisconsin, and Minneapolis, Minnesota.
In 2003, the Majors were appointed to Rockford, Illinois, and built a new Laotian ministry. Together, Major Bruce and Betty ministered to their corps at the Rockford (Tabernacle), IL Corps daily, but they also sponsored refugees. They helped new refugees enroll in English classes, shop for food, and find their way to citizenship. Refugees who become U.S. Citizens were honored at the Rockford (Tabernacle) Corps.
In 2014, Majors Bruce and Betty moved to lead another Laotian ministry, the Madison (Genesis), WI Corps. Wherever the Keobounhoms, go they plant and grow Laotian ministries.
In 2019, they were appointed as missionaries to Thailand to pioneer the Salvation Army ministries in this country.