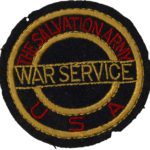 From Trenches …
The United States entered World War I on April 6, 1917, three years after the war had begun in Europe. In response, Salvation Army USA National Commander Evangeline Booth wrote to President Woodrow Wilson offering to provide humanitarian aid to the military. Her offer was rejected.
Persisting, Booth sent Lt. Colonel William Barker to meet with Joseph Tumulty, Secretary to the President. When Barker arrived, Tumulty was meeting with a prominent attorney who had been set free from alcohol abuse and was converted through The Salvation Army. After Barker stated his case, the attorney supported him and urged the Secretary to accept the help.
Barker then traveled to France, where he met with General John J. Pershing, commander of the US forces. Also having been helped by The Salvation Army, Pershing granted Barker and The Salvation Army open access.
Barker sent a message to Booth: "SEND OVER SOME LASSIES."