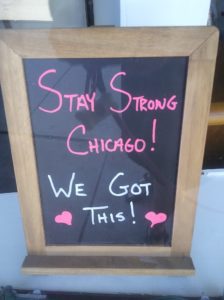 When the shelter in place order began in March, my family and I relished our daily walks with the dog. We watched the snow fall, the leaves begin to sprout, and the flowers bloom. We saw images of Chicago Mayor Lori Lightfoot in windows reminding us to "Stay Home, Save Lives," and signs of hope like "Stay Strong Chicago, We Got This!" giving us faith that we will work together as a community to prevent the spread of COVID-19. In early June, however, the signs began to change. Mayor Lightfoot now stood next to Black Lives Matter (BLM) signs in windows and yards across Chicago neighborhoods. Children used chalk on sidewalks to remind us "We Are All One." We were bearing witness to the impact of our actions, our words, and our re-action to the crises happening in our world.
Society reacted to a violent act on May 25th, 2020, when George Floyd, a former Salvation Army employee, lost his life. He was subjected to police brutality when officers restricted his breathing with knees on his neck and back to arrest him. He pleaded, "I Can't Breathe" and "Mama" as the light left his body. People across the world began to cry "I Can't Breathe" in protest. His death became a catalyst that helped propel the issue of systemic racism in the United States into the face of the world. Angry protesters gathered in cities across the world to shout his name and demand fundamental change.
Unfortunately, along with protests, came looting. Communities and organizations joined to protect businesses while still advocating for the BLM mission of protesting police brutality and racially motivated violence against Black people. Organizations like Paint the City connected artists with businesses to promote art as a form of social justice. They created fantastic murals that echoed the sentiments of communities all over Chicago.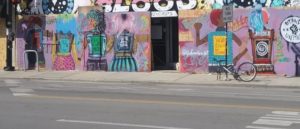 During this time, I rode my bike around several neighborhoods to document the murals that seemed to appear overnight. Businesses hung plywood over windows to protect any further damage to their property, and Paint the City partnered with them and local artists to paint and express the voice of the Black community. I was amazed and inspired by the graffiti style of art that reflected not only the inequality of the Black community, but also their proponents. Several murals in the Roscoe Village neighborhood were particularly noteworthy and inspirational for the inclusion of all people: Black, Indigenous, and people of color.
Shortly after the protests began, Central Territory Commissioner Brad Bailey asked the museum staff to create an exhibit about the history, participation, and contributions of the underrepresented communities in The Salvation Army.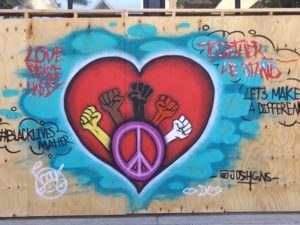 This dramatic artwork stood out as the inspirational an piece. After a little sleuthing, we determined who created the piece and asked for an interview.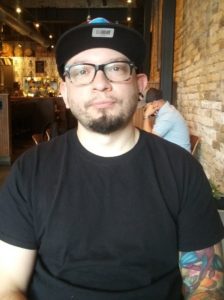 Meet Joshua Valdovinos, a 35-year-old Chicago native,and muralist. He is a bright, articulate, activist who spoke about his life growing up in Chicago, the impact the Black Community had on his formative years, his mentors, and his part in activating the city using art as social justice.
Josh calls himself a natural artist who learned his craft by imitating his older cousin. He started as a graffiti artist and eventually found his style. "Graffiti art is different than portraiture," he says. Describing it is almost guttural, he explains, "it is unique to you and your experience," then adding, "I can really express myself through this style of art." Josh was contacted by Paint the City, a non-profit organization, to help create murals throughout the city soon after the protests began. He and about sixty other artists created murals in almost every neighborhood in the city. "Oppression creates a need, and it triggers the art," Josh contends, saying, "Artists use paint as their voice." And their voices can be heard all over Chicago. "It is an opportunity to start a conversation, and to make people think," Josh says. "If a kid is experiencing racism, he can see the art and hopefully understand he is not alone." And on the flipside, Josh hopes, "If a racist sees it, perhaps it will make an impact too." Josh has created ten murals so far and hopes to create more.
We are grateful to Josh who is so humble about the art he creates, saying, "It's not about me, it's about the message." We love his message of unity, hope, and love. He is allowing the museum to use his artwork United We Stand love+unity+peace to capture this moment in history; to embrace every race, ethnicity, and color that God creates; to bring knowledge, education, and unity to the world around us; and to bear witness to the impact inequality has on society. We are excited to feature it in an upcoming series of exhibitions over the next three years.
This is the first in a series of blog posts about Josh, his art, and the how Black culture has impacted his life. Look for the next one in a few weeks.